It's 2009 and the Brisbane video game industry (international studios in particular) is on the verge of collapsing. Once a haven for companies seeking to produce games at up to half the cost of their American counterparts, the rising costs and lower profits associated with operating in Australia had meant that continuing development wasn't as desirable as it first was. Plus, with the boom of mobile gaming thanks to the Apple iPhone, local studios were focusing their efforts on mobile games such as Halfbrick Studios and their game Fruit Ninja, which released in 2010 and as of 2015 had been downloaded more than 1 billion times. That's a lot of sliced fruit.
In a peculiar technological happenstance, the collapse of the Brisbane game industry, the Australian launch of the iPhone 3GS, the launch of game engine Unity and the success of Fruit Ninja are credited as the catalyst for the birth of Screwtape Studios says co-founder and producer Megan Summers.
'Thankfully, not only had the iPhone 3GS just dropped in Australia, but this amazing product called Unity had launched, and the top iPhone game in the world, Fruit Ninja, came from a local Brisbane company. It was now or never, and Screwtape Studios was born'.
The studio, which is based out of Summers' home in Brisbane, took their name from CS Lewis' novel The Screwtape Letters.
'The story looks at themes of human temptation and resistance in a fascinating way. Games design is often a balance between these two human instincts. Also the first name we wanted was taken', explains Summers.
But for the co-founders of Screwtape, Megan Summers and Anthony Wood, their roots in the Australian game industry go back much further than the studio's founding date of 2010. While the duo have been friends since they met at Theatre School in 2003, they both worked for a number of studios – both large and small – in a number of roles to hone their craft.
Megan Summers and Anthony Wood, co-founders of Screwtape Studios
The pair, who were both at a time in their lives where they couldn't settle on a career choice, saw an ad for a Diploma of Multimedia majoring in Games Development at Southbank TAFE, and it was here they decided that video game design is what they wanted to do with their lives.
While Summers and Wood credit their academic training to TAFE and Queensland University of Technology (Wood), both have a wealth of studio experience, with Summers even experiencing the glitz and glamour of the AAA world with EA and THQ Australia.
'The first company I worked at was Pandemic and I was there during the acquisition by EA', says Summers, who started as a Junior Quality Assurance Tester.
'Just before Pandemic was closed I moved to Krome Studios for working mainly on the Game Engine testing team. After Krome downsized I was hired by THQ Aus until once again the studio shut down'.
Despite the studio closures, Summers is proud to have worked on eight multiplatform projects, with five releasing during that time. However, for Summers and Wood there is one studio that stands out from the rest and feels like a second home of sorts, and that is Brisbane's very own Defiant Development.
'A few years after we started Screwtape Studios we took a little time off and both worked for Defiant Development during the end phases of Hand of Fate', Summers explains.
'Anthony ported the game to platforms and I was the lead (and only) tester! During the development of Damsel, Anthony has also been working on porting other indie games in Australia to consoles and I have been working again as lead (woohoo not only) tester at Defiant Development on Hand of Fate 2. Defiant has been a mentor and inspiration for us as well as given us work in hard personal times, it will be very hard to leave again'.
Defiant Development and Hand of Fate provided Summers and Wood with some great experience
Like most studios, Screwtape was born out of a love for games and wanting to create experiences for other people, with Summers citing seeing people excited about something they've created as the reason they make games.
From a development point of view, Summers says she enjoys piecing games together the most.
'I see games like an intricate puzzle and figuring out how those pieces go together is the best part of game development for me'.
However from a player perspective – in the rare spare time that they do have – Summers enjoys zoning out and letting a game absorb her.
'If I cannot look at the clock for a couple of hours that's enough for me', says Summers who admits she's a big fan of the Civilisation, Diablo and Sim series, as well as the Fable and Commander Keen franchises. While Wood is an avid fan of Half-Life 2 and the Uncharted series. In fact, Summers admits that if the studio ever got to work on a big AAA title they'd love to work with Naughty Dog on an Uncharted project.
Last week the studio's debut desktop game Damsel released in full after being in Early Access for more than a year, something which Summers says was more important than they thought it would. But she admits that once you're in Early Access it's hard to leave.
'The feedback never stops, you could end up iterating for years. Making the decision that we were ready to release was very hard'.
Summers is the game's producer and tester, roles that entail her to be the support unit for the team.
'As the producer I make sure that the team is working together on what is the most important thing to be working on, this can change quickly when we need to change focus', says Summers.
'As a tester I'm not only looking for bugs in the gameplay, there is also system testing for PC and then I'll move over to certification testing once we move to console release'.
Although Summers and Wood are the chief operators, over the previous four years the Screwtape team grew to six people at one point during Damsel's development, with nine people working on the project altogether, each with their own unique talents.
Prior to Damsel, Screwtape worked on mobile games such as Bank Job, Conduction, Zen Snake and collaborated with fellow Brisbane developer Right Pedal Studios on Verby! Despite being proud of their mobile game roots, Summers alludes that as the studio evolved it was only inevitable that they would move into the PC/console game development sphere.
'We found the F2P model in mobile gaming very constraining. We wanted a little more freedom with how the game played which led us straight to PC/console development'.
Summers acknowledges that the differences between developing for mobile and PC/console games are varied.
'Mobile games are designed on a loop that is made on how the player plays', states Summers.
'PC games are much larger in size, which means we underestimated some of the timing, and from a design point of view it is a very different way of designing'.
One of Screwtape's earlier games, Bank Job
We found the F2P model in mobile gaming very constraining. We wanted a little more freedom with how the game played which led us straight to PC/console development

Megan Summers – Co-Founder and Producer, Screwtape Studios
However, the development of Damsel has not been without its setbacks. During the game's development a number of the team left to pursue bigger and better things, and while Summers and Wood harbour no animosity to those who sought greener pastures, it did mean that their own workloads became significantly larger, and when you're already juggling multiple roles, more work equals more stress.
Funding has also been a constant thorn in the studio's side during Damsel's development, reveals Summers. While the studio has received funding from Screen Queensland to help finish and market the game, Summers and Wood have relied mostly on savings and other work payments to sustain Damsel's development, something which Summers admits can make working full-time on the project a bit of challenge.
'Running an indie studio is very hard especially if you only want to make games', says Summers.
'There are so many other jobs that you need to learn how to do or pay someone else to do. It is very rewarding though when you work for yourself'.
In an attempt to generate extra funding, Screwtape decided that it would walk the crowdfunding path. A path that is becoming increasingly popular with indie developers hoping to take their projects to the next level. Summers and Wood explored the boons of both Indiegogo and Kickstarter before settling on the latter as their platform of choice.
Sadly, the 2017 Kickstarter campaign was unsuccessful, raising just $7,325 of their $50,000 AUD goal. Although it was a kick in the guts for Summers and Wood, the pair, who were showcasing Damsel at PAX Aus when the Kickstarter failed were buoyed by the fact that both media and the public were responding positively to the game.
Damsel has received an overwhelmingly positive public reception
So instead of letting the failed Kickstarter compromise the rest of the game's development, Summers and Wood do what they've always done when they've hit a roadblock: they analyse to see where they failed and how they can learn from it.
So how did a game that was impressing both pundits and punters fail to gain traction on Kickstarter?
'We asked for way too much money firstly', says a candid Summers.
'I think if had halved our aim to $25,000 we would have had a much better chance of actually reaching our goal. Also the game was too complete, we should have done our Kickstarter earlier or showed a lot less of the game.'
The failure of the Kickstarter wasn't just a massive blow because it set the game's development back by about nine months, it was actually the game's second unsuccessful crowdfunding campaign.
'We were the first game launched on a new Equity crowdfunding platform about a year before our Kickstarter', reveals Summers.
'It was unfortunately unsuccessful and the platform no longer exists. But again, we tried to learn from our mistakes and move on'.
'We entered a number of endeavours to gain funds and each of these blew out the development time of the game'.
While Summers identifies funding as a major challenge for running an indie studio, she admits that the biggest lessons she's learnt is how to manage people, especially creative and technical people, which she says is a bit of an art – one that she continues to get better at.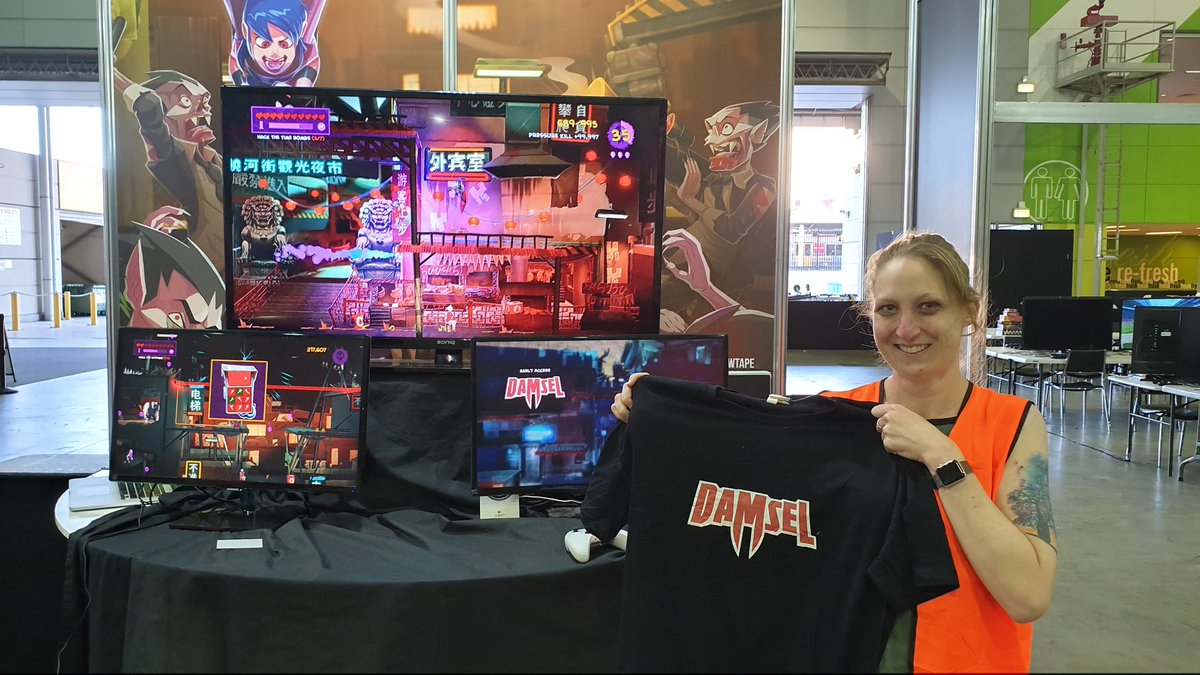 Meg at Brisbane Oz Comic-con this past September
Even though the industry has changed since the company's inception in 2010, Summers believes that the industry still lacks support from the Federal Government but is pleased that the State Governments have been lending a hand and helping the industry grow.
'We would love for our Federal Government to take on the suggestion of the inquiry into the video game industry', admits Summers.
'The State Governments have started to fill the gap the gap of funding available in the country. It is getting better and I think the more successful games that are made in Australia the less reason there is for the Federal government not to start funding the industry again'.
Now that Damsel is out in the wild, Summers says she's looking forward to taking a break at some point and finding some new hobbies. However, that won't be any time in the near future, because it'll be business as usual for Summers and Wood, with the team now focusing their efforts on the console version of Damsel.
Despite the hectic workload, Summers admits she loves designing video games and doesn't know what she would be doing if she didn't get into game development.
'I honestly have no idea. It would be in a creative field for sure, maybe film. But in the background, I've been told I'd be a good PA', Summers laughs.
Damsel, coming to consoles soon
Summers does have some advice for any budding video game developer.
'Your first game will be the hardest but it won't be your best, so make another game', she imparts.
Although video game development has not been an easy road to walk, both Summers and Wood have memories and friendships that have made it all worthwhile. Furthermore, over the journey the pair have built up a strong resilience and are confident they can deal with any issues that come their way, a characteristic that will hold them in good stead for the future.
If you're planning to attend PAX Australia this weekend, make sure you pop by and say hi (and check out Damsel – it's pretty damn good), the team would love to see some new and old friendly faces.
If you want to know more about Screwtape or Damsel, then check out Damsel's official website.