2009 was a historic year for a number of reasons. Barrack Obama was sworn in as the 44th President of the United States, Uncharted 2: Among Thieves, Call of Duty: Modern Warfare 2 and Assassin's Creed II were released, and Carlton made the AFL finals for the first time in seven years. It was also that year that friends Matt Clark, Tom Killen and Simon Joslin founded indie video game studio The Voxel Agents, whose credits include Train Conductor World, Puzzle Retreat and the upcoming The Gardens Between.
While the trio may have made things official in 2009, the truth is that the wheels were set in motion well before that. The trinity met at the Queensland University of Technology in Brisbane where they studied a now-defunct degree that joined an IT degree with a Creative Industries degree. It was here that they would talk about starting a studio. However, none of them had any experience working at a studio, let alone starting and running one. So instead of winging it like most students would do, the triad decided to gain some industry experience before joining forces on their own venture.
'It wasn't until we had worked at different studios in Brisbane and gained some experience and awareness of what it took, that we even began to take it seriously', Simon Joslin, the studio's creative director admits, who garnered most of his industry experience at Halfbrick Studios. While Clark worked on an unreleased Nintendo Wii game at Pandemic Studios.
Joslin reveals that working in the Australian video game industry was very a different proposition ten years ago. 'In 2008 the Australian landscape was effectively just work-for-hire studios', he says. 'The idea of "indie" was a mere twinkle in the eye of a very brave few, so going it alone to create original IP was a real stretch'.
The founding fathers of The Voxel Agents
Yet despite the risks and the paucity of starting an indie studio, that is exactly what Joslin, Clark and Killen did. 'When we won the 48-Hour Game Making Competition in Brisbane for the second year running we knew it was time', Joslin states. 'Our naivete, and perhaps delusion, meant we were willing to go alone and start something that very few, maybe no one in Australia was doing at the time'.
Almost ten years later, the studio, which is based alongside 30 other development teams in The Arcade in Melbourne, is one of Australia's most successful indie developers thanks to its mobile game successes, and is on the eve of its debut console and PC game launch, with The Gardens Between releasing on September 20.
Despite the studio continuously going from strength to strength, Joslin remembers the humble beginnings of The Voxel Agents. 'In the early days we were in a shoebox-sized one-person office with no windows, literally… (literally no windows, not the shoebox of course)', he laughs. 'It was a converted fire escape without ventilation, so we had to leave the front and back doors open, which sounds fine except that the back door opened onto the hallway and directly across from the only bathroom on the floor'.
It wasn't an ideal view, but Joslin and co were more concerned with developing video games than what was happening across the hall, and eventually as the team grew, a bigger workspace was required.
The truth though, is that The Voxel Agents have always been a small development team, only bringing on team members on per project basis. 'We are effectively operating on the film production model now', Joslin explains. 'We employ people for the project at hand, rather than having a stable of team members permanently Voxel'.
Joslin clarifies that is by choice, not because of financial constraint. It's a structure that Joslin and Clark have realised over the past ten years is better suited to their business philosophy, and one which allows for greater focus and flexibility when working on new and different projects. 'Staying focused on just one thing at a time helps us make better games as well as work faster. Plus, it's a better fit when you're trying to make unique and interesting projects each time since you might require different skills each time', he adds.
'I joke that we're a "really experienced student team" because we have very little process and we only plan as far ahead as a week, so having structure and process to scale and grow the team is an anathema to us'.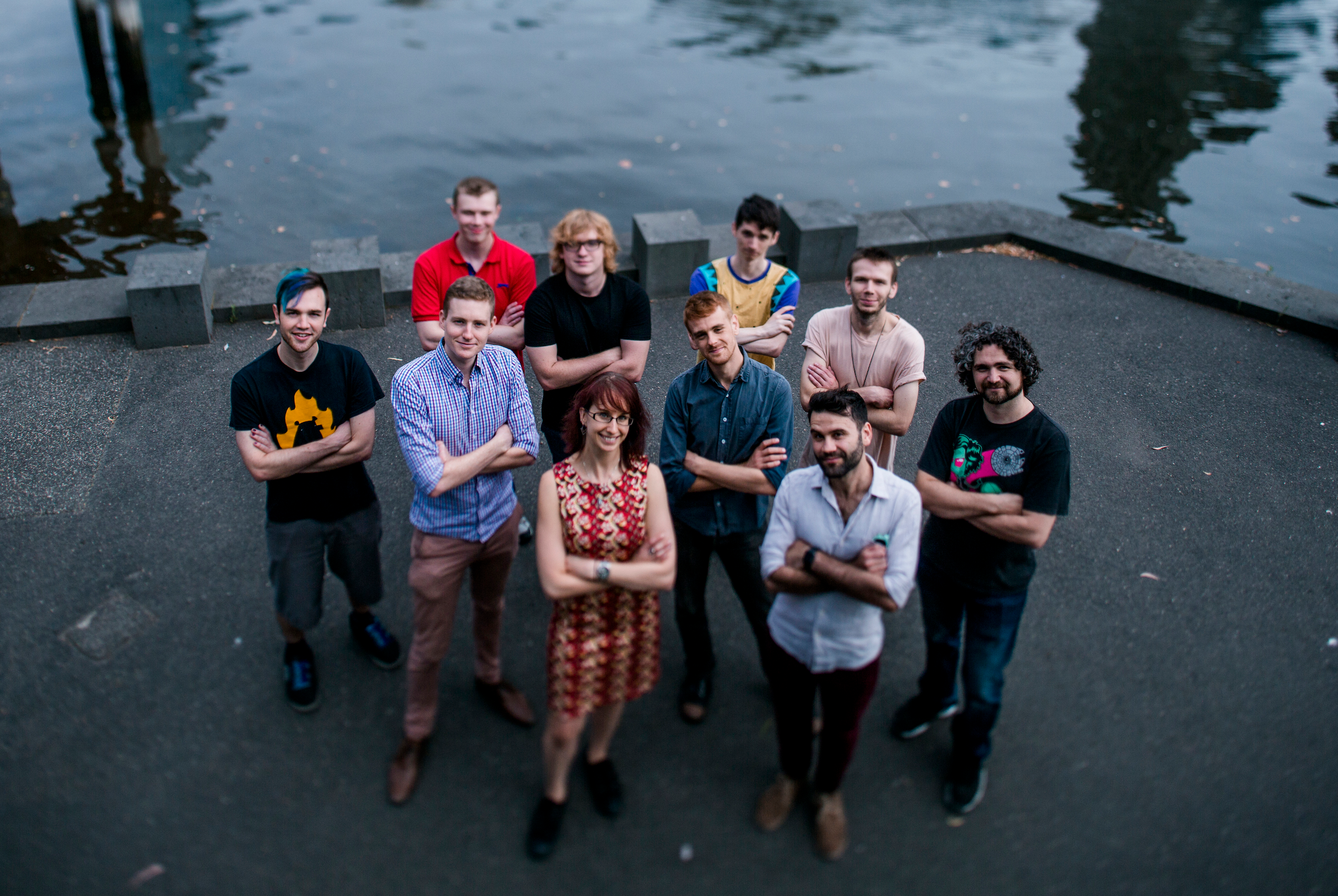 The Voxel Agents behind The Gardens Between
One of Voxel's most impressive traits is that it is willing to give budding creatives a chance in the industry. While a number of The Gardens Between team had worked with Joslin previously, a couple were total rookies, with artist Jon Swanson and narrative designer Brooke Maggs making their video game development debut.
'We saw their talent, gave them a start and they've proven to be absolutely stellar creatives who had very significant impacts on The Gardens Between', Joslin says proudly.
While this approach may not befit a lot of studios, for Joslin and Clark it has reaped numerous rewards, with the studio boasting more than 17 million downloads for their mobile game catalogue – 8 million and counting belong to their most recent title, Train Conductor World – something which Joslin attributes to the games simply being free.
'Make a great game people want to play, make it free, and you get downloads', he says. 'I think I've vastly oversimplified it, but how long do we have here? Ultimately though the difference with free mobile games is that there's just no barrier to checking out that game your friend is raving about', Joslin states.
'On the other hand, consoles need to boot-up, loading their game stores takes 5x longer, purchasing is more complicated, and nothing beats free for vast and wide distribution'.
Despite catering to different audiences, Joslin sees very little difference between mobile and console games from a development point of view. 'I think the divide is mostly in the heads of consumers', he says. 'As developers we all know we employ the same techniques, use the same tools, and have the same approaches'.
'The scope and scale may change, but frankly they're just not that far apart. I would happily move between them according to the design of our next title, and see no reason to stick to one platform'.
Joslin admits it was by pure happenstance that The Gardens Between became a console/PC game. 'We simply iterate on our best ideas to find something awesome, and in the case of The Gardens Between it was dreamt up in a completely different form in 2011', he states.
'It wasn't until Henrik Patterson, the game's creative director, re-joined the team in 2014 to take it further and explore how to tell a good story with the time-manipulated designs we had sitting around'.
'As we progressed with development it became clear it was best enjoyed on a big screen, comfortably on your couch, with enough time set aside to enjoy it', Joslin adds.
Staying focused on just one thing at a time helps us make better games as well as work faster. Plus, it's a better fit when you're trying to make unique and interesting projects each time since you might require different skills each time

Simon Joslin – Creative Director, Level Designer & Executive Producer, The Voxel Agents
While their mobile games may have raked in millions of downloads for the studio, The Gardens Between has given the studio unprecedented levels of exposure, thanks to 18 international awards nominations and being named as one of Polygon's "Most Anticipated Games of 2018". An achievement that Joslin and the team is extremely proud of.
The team has also taken The Gardens Between on an impressive convention tour over the course of its development, including appearances at PAX Aus (where we played and loved it last year), and more recently (I mean the last month alone) Gamescom, PAX West and Tokyo Game Show.
It's been a fairly taxing schedule, but one that Joslin says has been worth it. Not only because The Gardens Between has received an overwhelmingly positive response, but because Joslin is an avid traveller, especially when it comes to Europe.
'I love European cities. The way cities were designed hundreds of years ago should really be coming back into favour. Fuck cars. Long live the bicycle, knowing your neighbour and hanging out in your local park', Joslin laughs.
For Joslin, who served as the game's Executive Producer and Level Designer, the whole Gardens Between experience has been his career highlight. 'From all the award the nominations to the tons of positive player feedback it's hard to go past The Gardens Between as a highlight', he humbly replies.
'Matt and I have learnt a ton from this. Our teammates have grown immeasurably from humble beginnings. I'm really proud of them all. They're a great bunch and you are going to watch them go on to be superstars in our industry'.
Although the team at Voxel are currently focused on the launch of The Gardens Between, Joslin is aware the Train Conductor World community are craving an update, which has no exact date at the moment. However, Joslin does reveal that the team has some really exciting plans and new features in the works, as well as some new game ideas.
'We update Train Conductor World as frequently as possible. Our goal is to have the next update out by the end of the year. Otherwise I've dreamt up a few new game ideas I can't wait to explore further'.
For someone as driven as Joslin it's no surprise he sees himself as an entrepreneur of some kind if he wasn't designing video games.
'It's in my blood. My dad and my grandfather were both self-initiated upstarts too'.
Not only is Joslin a driven video game developer, he's also a keen foodie.
'I grow tomatoes and make salsa, Sicilian style. I bake bread and cure meats. I make ice-cream, slightly obsessively. It took me 25 attempts to nail my perfect deep rich and decadent chocolate ice cream – the secret is a whole block of dark chocolate blended in', Joslin reveals.
Simon Joslin, full-time game developer, part-time masterchef
Joslin is also a devoted father and husband, and when he's not designing the next indie hit or whipping up a storm in the kitchen, he is hanging out and playing silly games with his wife Lauren and their 17-month old son.
So how did an ice-cream making, bicycle-loving, would-be entrepreneur find a career in video games? Joslin explains that it was the opportunity to share his experiences, and those of others, with the world.
'Games are about experiences – so naturally you draw on your life', he says. 'As games are maturing as an art form, we're beginning to draw from more mature and diverse experiences.'
As far as inspirations for game ideas, Joslin reveals that they come from an eclectic source. 'Inspiration comes from all kinds of places. Life, relationships, people, places, things we do. Challenges we face in our lives. Tests and skills we pick up in life. Movies. Art. Books. There's no one source of inspiration'.
Joslin also admits that like any creative, he gets inspired by other game design ideas.
'I often get super excited and inspired at events like GDC because I hear about all these great creative approaches or designs', he states. 'Then suddenly inspiration strikes and I want to combine, adapt or expand on an idea I heard in a talk, or in conversations with other developers'.
The Gardens in development
Being surprised by new ideas is what Joslin loves most about playing video games. 'I love falling into a world, learning its rules and exploring its limits', he reveals. 'I love wrapping my head around a concept and working within its constraints to explore its possibilities. I love crafting my own goals and executing my own plans'.
Joslin credits games such as Sim City, Zelda: Breath of the Wild, Clash Royale, Reigns and Rodeo Stampede as some of his favourite gaming experiences.
'I'm personally quite mechanically focused, although a great story can really land for me', he says. 'Half-life 2 and The Last of Us were really stand out games. I've spent too much time in worlds like WoW. I don't limit myself to genres, platforms, or business models – I don't think they're interesting conversations'.
While Joslin has experienced some of the industry's highs, he's also been on the end of some of the lows. In particular the hot topic of "crunch".
'It was not good. It was a confluence of a few problems; a really hard game to make, a studio running out of money, and a project without the right team members', he reveals.
'Matt and I didn't join the project until later in development and when we did we discovered there was a lot more work remaining than anticipated, and there weren't funds to extend the project, so some crunch was necessary'.
As games are maturing as an art form, we're beginning to draw from more mature and diverse experiences

Simon Joslin – Creative Director, Level Designer & Executive Producer, The Voxel Agents
Joslin acknowledges that in his experience the majority of crunch has been self-enforced, and in some cases there are motivators to go the "extra mile", such as the company's revenue share model. He admits that overtime was practically unavoidable with The Gardens Between because it was such a bigger and more ambitious title that relied heavily on every small detail being right. Plus, he and the team are a bunch of perfectionists. But despite the pressures of video game design, Joslin reveals that he and the team are pretty flexible when it comes to working hours.
'I believe we work pretty normal hours for the industry. People can make-up time if they need to attend an appointment or have some time away. Henrik also decided to move to Vietnam mid-way through development, so we are generally pretty flexible'.
After more than ten years in the industry, Joslin reveals that while he has learnt a lot in that time, he doesn't really feel any better than when he first sat in that one-person shoebox all those years ago.
'Perhaps maybe it's just slightly more justified?', Joslin states. 'I think our awareness of what we don't know and what we aren't good at has increased in a diametrically opposed measure'.
Joslin reveals that the most challenging aspect of running a development studio has been focus.
'You're torn in so many directions, with so many hats you all have to wear', he says. 'You're also working without existing structures like in bigger organisations, so you're constantly having to define your own processes and approaches, which all take time'.
'On top of that add the complexity of making an entirely different game each time that basically draws nothing from the previous game. Puzzle Retreat, the Train Conductor series and The Gardens Between have very little in common. Our early years were plagued with indecision, distractions, thinking we needed to grow. Now Matt and I just want to focus, hence the film production model'.
So after The Gardens Between, what's next for The Voxel Agents?
'Matt and I want to keep the studio simple with just the two of us at its core', Joslin replies. 'We'll figure out the next game, then bring people on according to the needs of the project and how we think we can best execute on it'.
'Success or fail (of The Gardens Between), Voxel lives on, stronger than ever'.
The future of The Voxel Agents is in good hands
As our chat concludes, Joslin revels in the success stories had by his Australian counterparts.
'Australia continues to make outstanding contributions to the forward motion of our creative medium', he exclaims. 'We're killing it. Year after year, break out hit after another. Hollow Knight, Golf Story, Steppy Pants, Rodeo Stampede, Ski Safari, Fruit Ninja, Real Racing, on and on we go'.
If The Gardens Between is anything to go by, Australia can soon add another indie hit to that list. As for The Voxel Agents, with Joslin and Clark at the helm, this could just be the beginning of bigger things for the studio.